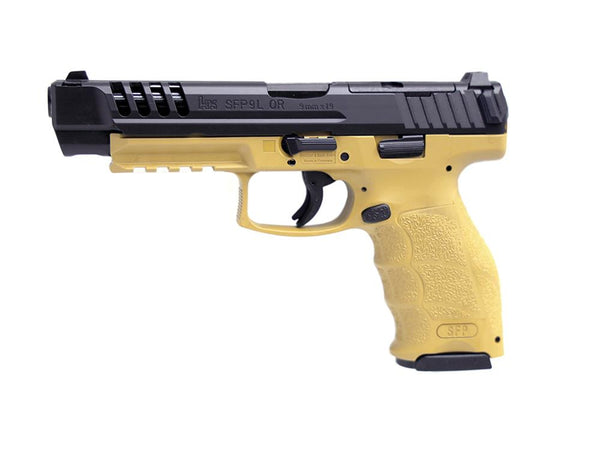 Heckler & Koch SFP9L-OR PB 4.5″ 9mm Pistol
SFP9L-SF OR optic ready lets you adapt a reflex sight to the HK SFP9L-SF OR. 
The modern SFP9 Striker Fired Pistol is a fully pre-cocked system with single-action trigger in caliber 9 mm x 19. The pistol's standard features include unique characteristics and innovative details. Patented charging supports at the rear of the slide simplify and assist charging without injury. The disassembly process requires no tools and guides the user through a mandatory course of action, offering maximum safety to prevent accidents. The pistol cannot be disassembled unless the magazine has been removed. Unlike comparable models of pistols, the weapon automatically de-cocks itself when disassembled. In addition, the trigger need not be pulled before disassembly. The magazine and ergonomics concept of the P30 were transferred to the new series of pistols. Not only does the SFP9 use P30 magazines, it also features interchangeable back straps and grip shells to provide a total of 27 individual grip shape combinations. Its excellent trigger characteristics promote maximum accuracy during rapid fire sequences.  It is based on a well-balanced relationship between hand position, light trigger pull and short trigger travel and reset.
Firing pin energy equivalent to that of hammer pistols
High intrinsic accuracy due to a precision machined fit, plus o-ring minimizing barrel play
Trigger, firing pin and disassembly safety
Fully pre-cocked system
"Special Forces" SF-Trigger (20-25 N)
 Push Button magazine release
Firing pin indicator on rear of slide
Low hand position enables quick and accurate follow-up shots
Ambidextrous operation for right and left-handed shooters (magazine and slide release)
Patented exchangeable charging supports
Ideal grip ergonomics
Exchangeable back straps and patented grip shells (27 grip combinations) for ideal adaptation to all hand sizes
No tools needed to strip to main assembly groups
Loaded chamber indicator
Sights with high-performance luminescent (non-radioactive) contrast points/bar
Guaranteed to function with an additional accessory load on the Picatinny rail of up to 160 g
Guaranteed and approved to function safely with all types of ammunition according to NATO, TR, C.I.P. and SAAMI
Guaranteed to function with all types of ammunition according to NATO and TR
SFP9L OR – Cal. 9 mm x 19 – SF-Trigger
Caliber:
9 mm x 19
Operating principle:
Recoil-operated with modified Browning locking system
Magazine capacity:
10 rounds
Trigger system:
SA (Single Action)
Magazine release:
Push Button
Safety lever:
with or without safety lever
Dimensions:
Length approx. 210.00 mm
Width approx. 33.0 mm
Height approx. 137.0 mm (without reflex sight)
Barrel length. 127 mm
Sight radius approx. 184.0 mm
Weight:
Pistol with magazine approx. 770 g
Magazine approx. 93/124 g
Other Data:
Trigger pull ca. 20-25 N
Trigger travel approx. 6 mm
Reset approx. 3 mm
Muzzle velocity ca. 440 m/s
Muzzle energy ca. 580 Joule
Barrel profile | Twist polygonal profile, 6 twist lines | right-hand twist